The Paintd Phantom is pleased to announce the arrival FRIENDS I to our series of images.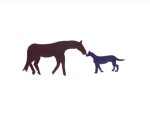 FRIENDS I joins the Earth Horse series and is released in honor of Peter's and our friends Vanessa and Heather's birthdays.  10% of the profits from the sale of Earth Horse products go to support the work of Back To Natives (www.backtonatives.org).
Click on the image or on the  STORE tab above to see our wide assortment of shirts, hoodies and more for the horse lover.  The Paintd Phantom donates 10% of their profits to support the work of local non-profits.